Director
Dr. Deborah Wong
Department of Music
Office tel. (909) 787-3726
Fax (909) 787-4651
E-mail: dwong@mail.ucr.edu
Associate Director
Dr. Traise Yamamoto
Department of English
Office tel. (909) 787-5301, ext. 1789
Fax (909) 787-3967
E-mail: yamamoto@mail.ucr.edu
---
The Center for Asian Pacific America (CAPA) was created in 1994 by Dean Carlos Vélez-Ibáñez, who placed it under the Center for the Advanced Study for the Americas. CAPA is a faculty research center in the College of Humanities, Arts, and Social Sciences at the University of California, Riverside, supported by Dean Vélez-Ibáñez and Professor Max Neiman (Director, Center for Social and Behavioral Sciences Research).

Participating Faculty


Hershini Bhana
(Department of Ethnic Studies)
Edward Chang
(Department of Ethnic Studies)
Ruth Chao
(Department of Psychology)
Piya Chatterjee
(Departments of Women's Studies
and Anthropology)
Rodney Ogawa
(School of Education)
Traise Yamamoto,
Associate Director
(Department of English)
Deborah Wong, Director
(Department of Music)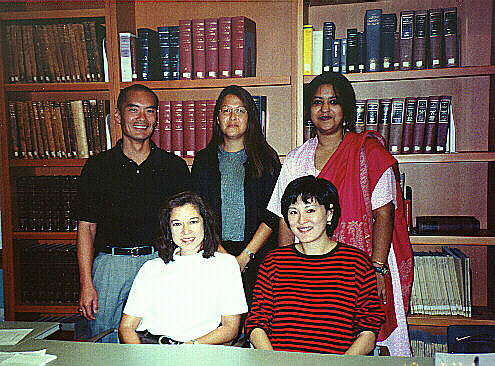 Standing, left to right: Rodney Ogawa, Ruth Chao, and Piya Chatterjee.
Sitting, left to right: Deborah Wong and Traise Yamamoto.
Not pictured: Edward Chang and Hershini Bhana.
Advisory Board


| | |
| --- | --- |
| Edna Bonacich | UCR, Professor of Sociology and Ethnic Studies. |
| Enrique de la Cruz | UCLA, Administrator for Curriculum, Asian American Studies Center. |
| Emory Elliott | UCR, Director, Center for Ideas and Society. |
| Yen Le Espiritu | UC San Diego, Professor of Literature. Past President, Association for Asian American Studies. |
| Sharon Goto | Pomona College, Assistant Professor of Psychology. |
| Dorinne Kondo | University of Southern California, Professor of Anthropology and American Studies and Ethnicity; Director, Asian American Studies. |
| Russell Leong | Editor of Amerasia Journal, Managing Editor of the UCLA Asian American Studies Center Press, and the Series Editor of Intersections: Asian and Pacific American Transcultural Studies. |
| George Lipsitz | UC San Diego, Chair, Department of Ethnic Studies. |
| John Liu | UC Irvine, Associate Professor of Social Sciences/Asian American Studies; Past President, Association for Asian American Studies. |
| Don Nakanishi | UCLA, Director, Asian American Studies Center. |
| Keith Osajima | University of Redlands, Associate Professor of Education and Director of the Race and Ethnic Studies Program. |
| Emilio J. Virata, Jr. | UCR, Director, Asian Pacific Student Programs. |
| David Yoo | Claremont McKenna College, Associate Professor of History. |
---

Mission statement

The Center for Asian Pacific America supports research in Asian American studies in the broadest sense. Asian American Studies is a discipline currently at the intersection of several trajectories. From the beginning, the field has defined itself as both academic and activist, community-oriented; however, it now finds itself at the locus of often conflicting academic and social discourses. Paradoxically, recent developments in Asian American Studies have given rise to accusations of academic hermeticism on the one hand, and reductive identity politics activism on the other.

Indeed, there is much disagreement within the discipline itself. Though Asian American studies is an inherently interdisciplinary field, it is also the case that methodologies, foci, and emphases differ along recognizably traditional disciplinary lines. Most notably, the humanities and social sciences approach Asian American studies in markedly different ways. To be sure, there is overlap and disciplinary "borrowing," and the two schools have more often benefited than not from their differences. Nevertheless, distinct differences in relation to numerical data, the conceptualization of the subjects of study, and theorization, among other elements, suggest that much of the health of Asian American studies as a discipline has resulted from difference.

These differences should not be elided or collapsed. If Asian American Studies is to thrive and grow, it must be the result of a creative and productive differences between the disciplines. The faculty involved with the Center for Asian Pacific America (CAPA) at the University of California, Riverside, represent a number of fields: Anthropology, Education, English, Ethnic Studies, Ethnomusicology, Psychology, and Women's Studies. Recognizing that interdisciplinarity may often be invoked in order to force similarities and awkward alliances, we take as one of our basic principles that it is precisely the diversity of approaches that enlivens the field.

Nevertheless, it is possible to identify sites of common interest and inquiry. One such site is the arena of public culture, which we understand includes things as diverse as the various inflections of Asian American political life, the changing sociological landscape and its effects on identity and activism, the renaissance of expressive culture as a space of protest and affirmation, and the increasing hegemony of media representation and its self-referentiality. Given that the realm of public culture is shaped ideologically and culturally—as well as materially and socially—it seems not only reasonable but necessary that Asian American scholars, activists, theorists, and artists not dissolve their differences in a replication of the melting-pot mentality. Rather, the Center for Asian Pacific America seeks to retain those differences as sites from which we depart in order to form creative and critical alliances.
CAPA currently represents the research activities of six faculty members: Deborah Wong (Director, ethnomusicology), Traise Yamamoto (Associate Director, literature), Hershini Bhana (literature and Ethnic Studies), Edward Chang (sociology and Ethnic Studies), Ruth Chao (psychology), Piya Chatterjee (anthropology and Women's Studies), and Rodney Ogawa (education).

History

Established in 1994, the Center for Asian Pacific America (CAPA) has focused its attention to making Asian American Studies and the Asian Pacific American community visible in the Inland Area. In 1994-95, the year of its inception, CAPA sponsored a campus-based roundtable discussion on the present state of Asian American Studies. Participants included faculty from several departments: Masako Ishii-Kuntz (Sociology), Edward Chang (Ethnic Studies), Rodney Ogawa (Education), Piya Chatterjee (Women's Studies/Anthropology), Steffi San Buenaventura (Ethnic Studies), and Traise Yamamoto (English). CAPA helped sponsor the 1995 Association for Asian American Studies Southern California Regional Conference, an event that drew more than two hundred faculty members, graduate, and undergraduate students. That spring, the Center co-sponsored (with Women's Studies and Asian Pacific Student Programs) a symposium featuring three outside speakers, "Military Prostitution in South Korea: Life in a GI Town," as well as a symposium entitled, "L.A. Civil Unrest: It Could Happen Here." We ended that year with an afternoon panel and evening reading featuring writers Frank Chin, Jeffrey Paul Chan, Lawson Fusao Inada and Shawn Wong, co-editors of the 1974 collection Aieeeeee! An Anthology of Asian-American Writers, who were instrumental in founding Asian American literature and who had not been brought together for almost fifteen years.

Between 1995 and 1997, the Center for Asian Pacific America hosted several speakers, covering a range of issues in the field of Asian American Studies: K. Connie Kang, Los Angeles Times reporter and author of Home was the Land of Morning Calm: The Saga of a Korean-American Family; Marilyn Alquizola on "Pilipino Community Development and Literature"; Lane Ryo Hirabayashi on "Leadership and Service in the Asian and Pacific Islander Community"; Enrique de la Cruz; and jazz pianist Jon Jang.

In addition, CAPA has sponsored a faculty Works-in-Progress series that is now going into its sixth year. Presentations have included Deborah Wong, "Some Asian American Thoughts on Critical Pedagogy and Cultural Work," Edward Chang, "Korean Swap Meets in Los Angeles," Rodney Ogawa, "Embracing Uncertainty: Organizing to Enhance Knowledgeability and Capability in Teaching," and Traise Yamamoto, "In/Visible Difference: Japanese American Female Subjectivity."

CAPA has also spent a significant amount of time and resources on developing a database of grant-funding sources. Using monies available for research support, the Center has hired a number of graduate students to compile information on possible sources of future funding for collaborative research projects and additional symposia.

CAPA is pleased to work with UCR's Asian Pacific Student Programs on a number of issues and events, including the Annual CAPA Award for Outstanding Contribution to Asian American Studies. This award has recognized the following students:


CAPA Awardees


1999
Louisa Ng
Now a doctoral student in Education at UCR, Ms. Ng received her Bachelor's degree in English from UC Irvine and is currently a Research Fellow in UCR's California Educational Research Cooperative, where she is involved in a project examining factors that contribute to the under-representation of ethnic minorities in California's teacher workforce.
Ng's research interests lie in examining the institutionalization of Asian Pacific American and Ethnic Studies in universities. Her projected dissertation research will trace the development of Asian Pacific American Studies as an academic discipline, exploring the implications of this path for the status and future of APA Studies in the American academy.

1998
Yutian Wong
Ms. Wong, a doctoral student in Dance History and Theory, was recognized for her work with the Rad Asian Sisters, an Asian American women's performance group based at Highways (a performance space in in Santa Monica). Ms. Wong co-organized the Rad Asian Sisters' workshops and performance the fall of 1997 with Denise Uyehara, an eminent Asian American performance artist. Her own contribution to the performance was a skit titled "The Chinese American Acrobat," a whimsical exploration of virtuosity.
1997
The Asian American
Writing Collective
This group of undergraduate writers has shown tremendous drive and talent, culminating in their publication Rock, Paper, Scissors, an edited collection of poetry, fiction, and visual art.
1996
Roland Sintos Coloma
For outstanding service to the APA community at UCR.



Current and Future Plans

In December 1998, we applied to the Academic Senate for formal recognition as an Organized Research Unit at UCR and are still awaiting notification.

For the 1999-2000 academic, we have a major grant from the UC Pacific Rim Research Initiative to support a number of projects.

---
CAPA Members' Biographies and Research Interests

DEBORAH WONG (Director)
Assistant Professor of Music
Deborah Wong is an ethnomusicologist, specializing in the musics of Thailand and Asian America. She holds an M.A. and Ph.D. (1991) from the University of Michigan, where she wrote her dissertation on Thai performers' rituals under Judith Becker; her B.A., magna cum laude (1982), in anthropology and music, is from the University of Pennsylvania. She has done extensive fieldwork in Bangkok, Thailand. Her book, Sounding the Sacred: History, Aesthetics, and Epistemology in Thai Performers' Rituals (1999, University of Chicago Press), addresses ritual performance about performance and its implications for the cultural politics of Thai court music and dance in late twentieth-century Bangkok. A second book, tentatively titled Speak It Louder: Asian Americans Making Music, focuses on music and identity work in a series of case studies (Southeast Asian immigrant musics, Chinese American and Japanese American jazz in the Bay Area, and Asian American hip-hop). She has published articles in Ethnomusicology, Asian Music, The Drama Review, College Music Symposium, Asian Folklore Studies, and a number of edited collections.

Wong taught as Assistant Professor of Music at Pomona College (1991-93) and at the University of Pennsylvania (1993-96); she was Visiting Assistant Professor of Music at Princeton University in 1994. She has been Assistant Professor of Music at UCR since the fall of 1996.

Asian American issues and activities are a priority for Wong. She has served on numerous committees addressing issues in Asian American studies curriculum as well as Asian American student needs. From 1994-97, she was a Board member for The Asian Arts Initiative in Philadelphia, a non-profit community arts organization dedicated to community empowerment through the arts. At UCR, she became Director of the Center for Asian Pacific America in fall 1997.

Born on the East Coast, Wong is now an enthusiastic Californian. She self-identifies as Chinese American (third generation), as multiethnic, and as Asian American.

---

TRAISE YAMAMOTO (Associate Director)
Associate Professor of English
Books:
Masking Selves, Making Subjects: Japanese American Women, Identity, and the Body. Berkeley: University of California Press, 1999. (Information below from the University of California Press catalog.)
(since 1992):Articles
"Representing Memory: The Art of Eddy Kurushima and Kim Yasuda." Finding Family Stories Series. Los Angeles: Japanese American National Museum, forthcoming.
"In/Visible Difference, or Now You See Them, Now You Won't: Asian American Women and the Politics of Spectacle." Submitted to Race, Class and Gender.
Entry on Monica Sone's Nisei Daughter, in The MLA Resource Guide to Asian American Literature, eds. Sau-ling Wong and Stephen Sumida. New York: Modern Language Association, forthcoming.
"Barriers and Boundaries." Keynote address for Asian Pacific Women's Mentoring Day. Asian Pacific Student Programs, Asian Community Times, forthcoming Fall 1997.
"Negotiating Textual Terrain: A Conversation on Critical and Pedagogical Interventions in the Teaching of Ethnic Autobiography," with Shelli Fowler, Kathryn Shanley, Tiffany L6pez and Caroline Simpson. Frontiers: A Journal of Women Studies, 17.2 (Fall 1996): 4-49.
"'As natural as the partnership of sun and moon': The Logic of Sexualized Metonymy in Pictures from the Water Trade and The Lady and the Monk," in positions: east asia cultures critique, 4.2. (Fall 1996): 321-341.
"Different Silences," in The Intimate Critique: Autobiographical Literary Criticism, eds. Diane P. Freedman, Olivia Frey and Frances Murphy Zauhar (Durham: Duke University Press, 1993), 127-134.

Presentations (since 1992):
"In/Visible Difference, or Now You See Them, Now You Won't: Asian American Women and the Politics of Spectacle." Association for Asian American Studies, Seattle, WA, 17 April 1997
"The 'Other' Autobiographer: Reading Strategies of Resistance in American Ethnic Autobiographies." American Studies Association. Pittsburgh, PA, November 1995.
"Yellowfaced Nationalism in 'Teahouse of the August Moon." Association for Asian American Studies. Oakland, CA. June 1-4, 1995.
"Reaffirming Self and Nation: The Japanese Woman in Contemporary British Travel Narratives." National Women Studies Association, Northwest Regional Conference. Tacoma, WA. 14-16 April 1994.
"'As natural as the partnership of sun and moon': White Men, Japanese Women and the Feminization of Japan," Association of Asian American Studies. Ithaca, New York, June 1993.
"The Third Element: The Politics and Possibilities of Raced Subjectivity," Theoretical Approaches to Marginalized Literatures Conference. Washington State University, March 1993.
"Articulating Silence(s): The Poetics and Politics of Location," Association of Asian American Studies. San Jose, CA., May 1992.


---

HERSHINI BHANA
Assistant Professor of Ethnic Studies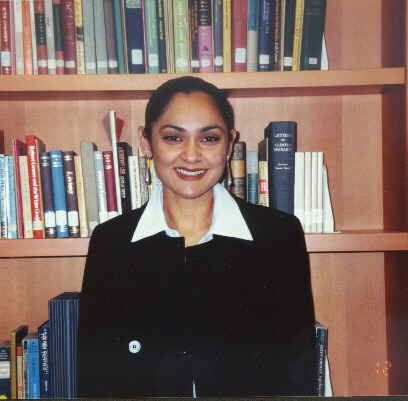 Hershini Bhana in the English Department library.

Hershini Bhana completed her PhD at the University of California, Berkeley in 1998. She is currently working on a manuscript that is being considered by Oxford University Press, entitled Diaspora Conversations: Theorizing (by) the Ghost, wherein she examines several women's texts of the African diaspora such as Tsitsi Dangarembga's Nervous Conditions. Her research interests include the reading of 'mixed' raced bodies, theorizing (collective) memory and trauma in transnational black communities, and studying African spirituality as it criss-crosses the Atlantic.
---

EDWARD TAEHAN CHANG (Past Director)
Associate Professor of Ethnic Studies
Edward Taehan Chang is an Associate Professor of Ethnic Studies and a former director of the Center for Asian Pacific America (CAPA) at the University of California at Riverside. He earned his B.A. (1982) in Sociology and Ph.D. (1990) in Ethnic Studies at UC Berkeley and M.A. (1984) in Asian American Studies at UCLA. Professor Chang's research interests include Korean American-African American relations, Asian-Latino relations, immigration, and race relations theories. He is considered one of the foremost interpreters of the Los Angeles race relations and the civil unrest in 1992. Professor Chang has lectured on the topics of Korean-African American relations and the Los Angeles civil unrest and its impact on the Korean American community at UC Berkeley, Harvard, Yale, Smith College, Johns Hopkins University, Boston College, UCLA, the University of Michigan, the University of Illinois-Champaign, Colorado College and others. In addition, he has served as a field reporter and consultant for "Los Angeles is Burning: Five Reports from a Divided City," a PBS Frontline special program on the civil unrest. He is also a regular contributor to the Los Angeles Times, where he has commented on issues related to interethnic relations and the Korean American community.

Chang is the author of two books, Following the Footsteps of Korean Americans, and Who African Americans Are (in Korean). His forthcoming book is tentatively titled Building Multiethnic Community: African Americans, Korean Americans and Latinos, and will be published by the New York University Press (1999). Among his published works are "America's First Multiethnic Riots," "Building Minority Coalitions: A Case Study of Korean and African Americans," and "Jewish and Korean Merchants in African American Neighborhoods: A Comparative Perspective." Chang has also co-edited two volumes about the Los Angeles civil unrest and its aftermath: Los Angeles! Struggles Toward Multiethnic Community (University of Washington Press, 1995) and Building Multiethnic Coalitions (Regina Books, l995).

Recently, Professor Chang received the President's Award from the President of the Republic of Korea for his efforts leading a national campaign to gain support and raise funds for the development and institutionalization of an achievement test (SAT II) on the Korean language for high school students seeking college admission.

Chang has also received numerous awards including the John Anson Ford Award from the Los Angeles County Human Relations Commission (1995), the Education Award from the Asian American Studies Center at UCLA (1995), Milal Award (1996), the Global Korea Award from Michigan State University (1995), and the Distinguished Korean American Award from SUNY at Stony Brook.


---

RUTH CHAO
Assistant Professor of Psychology
My research has involved exploring alternative conceptualizations, theories, and paradigms for capturing and understanding the parenting and childhood socialization of East Asian immigrant families, primarily Chinese. I have been particularly concerned with the area of parenting style, demonstrating the need for a reconceptualization of Baumrind's widely-recognized parenting styles (i.e., comprising three types, authoritative, authoritarian, and permissive). Studies focusing on the relationship between parenting style and child outcomes like academic achievement have found some very contradictory results for Asian Americans, in general. That is, although the authoritative parenting style was most predictive of achievement for European Americans, this style was least effective in explaining Asian American achievement. I had proposed as a resolution to this paradox, that these parenting-style concepts are relevant for Asians, and I offered an alternative indigenous parenting style of chiao shun (i.e., a Chinese term that I have generally translated as "training"). The concept of training is based on a type of parental control that is distinct from the more "domineering" control that describes the authoritarian parenting style.

I have also continued studies on parenting style among immigrant Chinese families by exploring the relations between their parenting style, as captured both by Baumrind's conceptualizations and by my notion of "training", and their parenting goals as well as practices in school (i.e., parental involvement in school). With regards to parents practices, a number of studies have found that Asian American parents, particularly East Asians, were highly involved with their children's schooling, while some studies have found the opposite. However, these latter studies focused on more directive and managerial types of involvement (e.g., helping children with their homework, selecting their courses, attending school programs for parents) that may be especially difficult for Asian American immigrants. Also, Asian American parents may offer what I have labeled as more indirect or structural types of involvement (e.g., structuring their after-school time with academically-enriching music and/or language lessons, purchasing extra textbooks, assigning them extra homework).

Currently, I am extending the work described above to look more closely at the importance of parental control, as well as parental involvement in school in explaining children's school achievement. Specifically, this study will examine how the effects of parental control and parental involvement on children's school outcomes are mediated by the children's perceptions of the parents' control as well as involvement in school and that these relationships may differ for East Asian immigrants in comparison to European Americans. More positive effects for parental control may be found for East Asians compared to European Americans, and these positive effects may largely be explained by the mediating role of children's perceptions regarding their parents' control and involvement in school. That is, parental control and involvement in school may be perceived more positively by East Asian than European American children. I am also beginning a study examining the role that children of Chinese and Mexican descent may play in the cultural or linguistic brokering of their immigrant parents. Research on the topic of language brokering or translation provided by children for their immigrant parents indicates that this has been a very understudied area. However, there is some evidence that brokering is not only prevalent for them, but also involves great linguistic and psychosocial challenges or demands. This study seeks to determine whether the brokering that immigrant parents receive comes primarily from their own children and whether there are particular qualities or characteristics in children that are related to being "chosen" as brokers by their parents. Finally, this study will also determine whether these brokering responsibilities have an impact on children's psychosocial well-being and on the parent-child relationship. More in-depth analyses will explore just how children's brokering responsibilities may impact the parent-child relationship in terms of perhaps undermining the parent's authority, or on the other hand, fostering more closeness between parents and children.

Selected Publications
Chao, R., & Sue, S. (1996). "Chinese parental influences and their children's school success: A paradox in the literature on parenting styles." In S. Lau (Ed.), Growing up the Chinese way: Chinese child and adolescent development, 93-120. Hong Kong: Chinese University Press.
Chao, R. (1996). Chinese and European-American mothers' beliefs about the role of parenting in children's school success. Journal of Cross-Cultural Psychology, 27, 403-423.
Chao, R. (1995). "Chinese and European-American cultural models of the self reflected in mothers' child-rearing beliefs." Ethos, 23, 328-354.
Chao, R. (1994). "Beyond parental control; authoritarian parenting style: Understanding Chinese parenting through the cultural notion of training." Child Development, 45, 1111-1119.


---

PIYA CHATTERJEE
Assistant Professor of Anthropology and Women's Studies
Fields of Interest: Gender, feminist ethnography, colonialism, plantations, "international development issues," women and medical/public health cultures. South Asia, British Caribbean. Ph.D., University of Chicago, 1995.

Border crossing and diasporic worlds chart Piya Chatterjee's personal and intellectual contours and her Anthropology. Born in India, she spent an early childhood in Nigeria. As an undergraduate at Wellesley College she acquired an intellectual commitment to women's issues and then took a Master's side trip through Political Science at the University of Chicago. Her main areal focus is South Asia, but she has related interests in the history of the English-speaking Caribbean. She is currently writing about gender, labor, and history in Indian tea plantations, while the focus of her current research is working-class women and public health cultures within Indian plantations and in California agribusiness. Her book-in-progress is titled A Time for Tea: Labor, Gender and History on an Indian Plantation. This research is located within the broader field of women and international "development." Her methodological approach is shaped by current debates in feminist ethnographic writing and practice as well as issues of community participation in field research, pedagogy, and writing. Chatterjee is also Assistant Director of The Center for Women in Coalition.

Selected Publications:
"'Secure this Excellent Class of Labour': Gender and Race in Labour Recruitment for British Indian Tea Plantations," Bulletin of Concerned Asian Scholars (1994 in press).
"Encounters Over Tea: Gender, Labour and Political Culture on an Indian Plantation." (1994, Ph.D. dissertation).


---

RODNEY T. OGAWA
Associate Dean of the School of Education
Professor of Education
Professor Ogawa received his Bachelor's degree from UCLA, where as an undergraduate he was a student in the original courses in Asian American Studies (yes, he's been around that long). He earned his Ph.D. at the Ohio State University and completed a post-doctoral fellowship at Stanford University. Professor Ogawa's research focuses on the administration and organization of public schools. He has published in the leading educational research journals, including American Educational Research Journal, Review of Educational Research, Educational Administration Quarterly and Educational Evaluation, and Policy Analysis. He received the William Davis Award for the most outstanding article of the 1995 volume of Educational Administration Quarterly. Professor Ogawa is developing a line of research that will examine the relationship between institutions of higher education and Asian Pacific America; he and Louisa Ng, a graduate student in the School of Education, are preparing an exploratory study of Asian American Studies as an instance of institutional change in universities.



CAPA welcomes suggestions and support.
In 1997, CAPA received a generous gift from Mr. Myung K. Hong, President of Duracoat Co., to support research on Korean American issues.

Current projects
During the academic year, CAPA members meet monthly to report on various projects.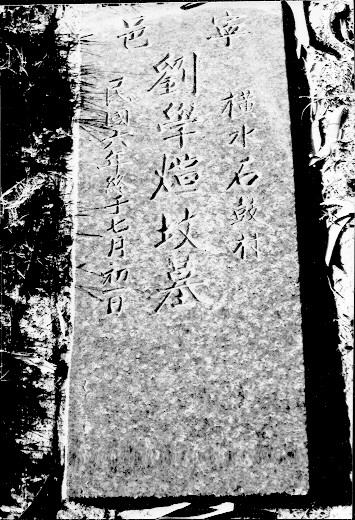 We are presently seeking office space and funding for an Asian American Colloquium and Performance Series.
We have begun a long-term project documenting the past and present history of Asian Americans in Riverside.
Gravestone from Olivewood Cemetary in Riverside, California.

This web site was created and is maintained by CAPA Director Deborah Wong. If you have comments or questions, please contact her at dwong@mail.ucr.edu.
The CAPA logo was designed by Paul Simon in 1996.




Number of visitors since December 1, 1998:
This counter was created by Lydia Leong and is from the Museum of Counter Art.